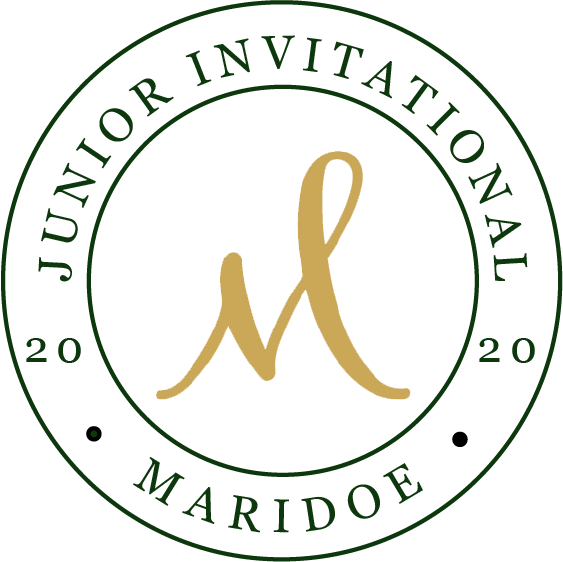 Maridoe Golf Club is excited to host the inaugural Maridoe Junior Invitational on June 9 – 11, 2020. We are thrilled with the caliber and excellent field that has been assembled to play in the MJI Championship. Thank you for your patience as this tournament continued to evolve as Covid-19 guidelines changed. Please read the update carefully as it contains updated information. We look forward to having a safe and healthy championship.
Field
We have an incredible field of 58 top players from around the country. An alphabetical list of players is available on the website.
Schedule of Events
Monday June 8th
Practice Rounds beginning at 12:00
Dinner after play
Tuesday June 9th
Round 1 starting times off #1 from 7:00 to 10:30
College Golf Fellowship Ping Pong after play
Wednesday June 10th
Round 2 starting times off #1 from 7:00 to 10:30
Thursday June 11th
Round 3 starting times off #1 from 7:00 to 10:30
Breakfast begins at 6:00 and lunch will be served after completion of play all 3 championship rounds
Registration
Player registration will open at 10:30 on Monday. It will be located inside the clubhouse. We ask players to arrive no more than 90 minutes ahead of their scheduled practice round time. At registration you will receive welcome packet, tournament information, player gift, yardage book, etc.
Practice Facilities
The practice facilities will be open until 5:00PM Monday evening. The practice areas will open at 6:00AM on Championship mornings. Please limit post round practice session to 60 minutes. Please arrive no earlier than 60 minutes in advance of your starting time. These time restrictions are in the spirit of allowing all players access to the practice areas.
Starting Times
Starting times will be off #1 Tee for all 3 rounds. Pairings for rounds 1 and 2 are now posted on the website. Round 3 pairings will be based off or rounds 1 and 2 results. The starting time window for all 3 rounds will be 7:00 to 10:30.
Golf Course Set-Up
The golf course set-up will be determined by course & weather conditions each day. A general yardage will be between 7000 and 7300 yards all 3 Championship Rounds.
Ranking Recognition
Many ranking systems immediately agreed to support you and the excellence you have displayed during your junior golf journey when the Maridoe Junior Invitational was announced. The Maridoe Junior Invitational is highly supported and ranked on WAGR, Scratch Player, Golfweek, JGSB. The AJGA has decided to award 100 Rolex points for the MJI.
2020 Southern Amateur
The top 3 finishers in the Maridoe Junior Invitational who are not already exempt in the 2020 Southern Amateur will receive exemptions into the tournament held in July.
2020 Junior Ryder Cup
The Maridoe Junior Invitational has received "Premiere Event" status for the 2020 Junior Ryder Cup team. 675 points will now be available for the Champion of the MJI.
Scoring
Competitors will receive their own scorecard. There will be no exchanging of scorecards. Live scoring will be done thru Golf Genius. The GGID# for following live scoring is MJI2020. Scores will be updated approximately every 4 holes. At the conclusion of the round all competitors and marker must verbally confirm scores in the scoring area. A picture of each competitor's scorecard will be taken by the Official at the scoring area. Once the picture is taken the score will be counted as official.
Attire
Competitors, Caddies, and Guests
Collared shirts are required and must be tucked while on property. Shorts are permitted. Hats must be removed when inside the clubhouse. No denim may be worn while on property.
On behalf of the entire Maridoe Golf Club Team we cannot wait to have you here on June 8 – 11, 2020.